By J Olutide |
30
October 2021
5 essential commercial kitchen equipment in 2021
What is a kitchen?
A kitchen is a designated area within a building for the preparation of food and often features equipment like a stove, refrigerator, and cabinets for storing food.
A commercial kitchen, however, is not the same as the kitchens we find in our homes, it requires way more specialized commercial kitchen equipment, which includes: Commercial gas range, dough sheeter, commercial sink, meatball machine, commercial refrigeration equipment, etc. A commercial kitchen also needs extremely skilled workers to function properly as it is the engine that runs restaurants that serves a very large number of people.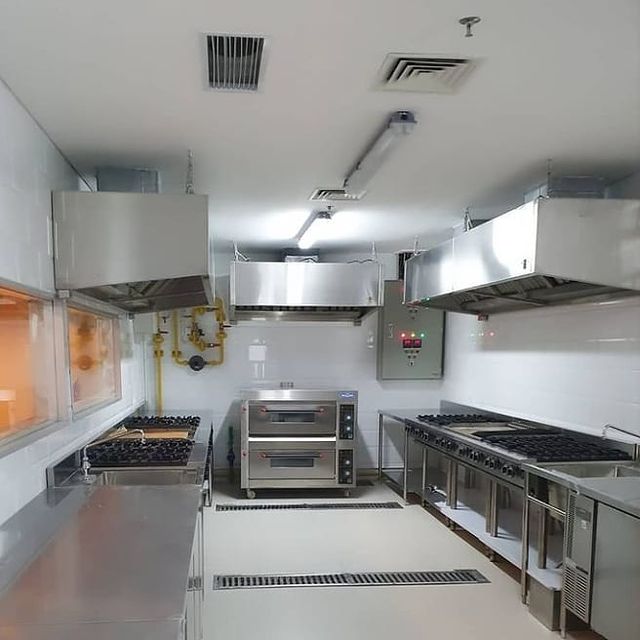 As the times change, advances in techniques and technology for commercial kitchen equipment make it compulsory for commercial kitchens to advance as well in the use of this equipment for them to be classified as modern. This article will expatiate on the equipment required for building a modern commercial kitchen in the 21st century. Two major things are extremely important in building a successful modern commercial kitchen; the layout of the kitchen and the commercial kitchen equipment deployed in the kitchen.
The commercial kitchen equipment that are required for a modern commercial kitchen are:
1. A Commercial Gas Range.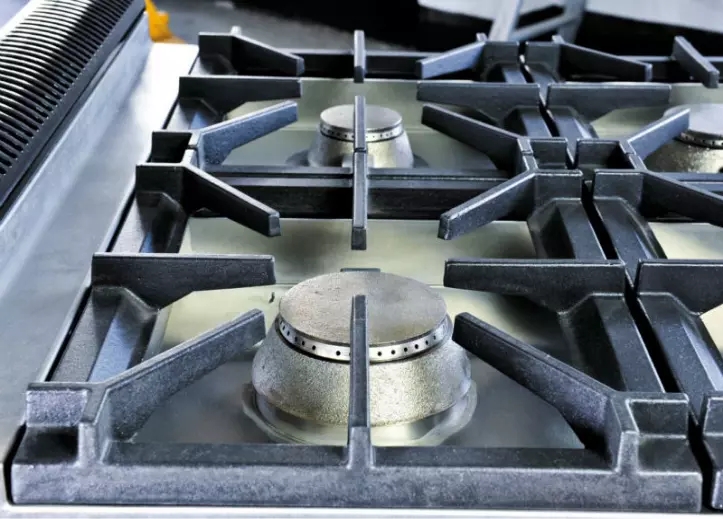 A commercial gas range is an equipment that combines several activities in the kitchen which usually require separate equipment into one unit.
These activities include:
➢ Cooking
➢ Stir-frying
➢ Sauteing
➢ Searing
➢ Boiling
➢ Grilling
➢ Baking
➢ Roasting
➢ Broiling
➢ Storage
They reduce congestion in the kitchen, ensuring that a lot of space is saved in the kitchen and they also remove the stress involved in moving around the kitchen to carry out separate activities at once. Many activities can be carried out at the same time on commercial gas ranges; several orders from customers can be filled simultaneously by chefs with the minimum amount of energy consumed, this saves a lot of time, energy, and money.Commercial gas ranges come in various sizes, ranging from 24 inches in width, up to 72 inches for ranges suitable for commercial kitchens. These gas ranges also feature many components that serve a number of different purposes. The components found in commercial gas ranges include:
➢ Burners
➢ Ovens
➢ Griddles
➢ Charbroilers
➢ Oven Racks
➢ Smokers
➢ Steamers
The space available in the kitchen would determine the size of the range you should buy for your kitchen. They are affordable in terms of maintenance and energy consumption costs, and some gas ranges feature removable components for easier cleaning and maintenance.
2. Dough Sheeter
These are a must-have for rolling out sheets of dough into the desired thickness. Imagine if a pizzeria or a restaurant serving pasta had to fill all their pizza or pasta orders while rolling out sheets of dough by hand for every order that is made in a day; that would extremely inefficient, time-consuming and stressful as well. This is why a dough sheeter is necessary for any modern commercial kitchen. Dough sheeters are excellent in rolling out dough smoothly, uniformly, and to suitable thickness for any dish, including:
● Pizza
● Pasta
● Bakery buns
● Pies
● Dumplings, etc.
They are fast, easy to operate and require very little energy to use. Commercial dough sheeters are space-saving and time-saving and can produce hundreds of perfectly sheeted dough in less than an hour.They are also affordable, easy to clean, and maintain.
3. Commercial Sink
Commercial sinks are extremely important in any modern commercial kitchen and it is essential to have at least two different types of sinks in the kitchen; although, it is best to have three sinks because it is not advisable to wash utensils and food in the same sink. The three main types of sinks needed in a modern commercial kitchen are:
➔ A Hand Sink: This is a simple sink for washing hands in the kitchen, and it is necessary to locate this type of sink in an easily accessible area in the kitchen for the chefs or cooks to wash their hands regularly. It is important that it is located near the work area and not remotely so that the workers are encouraged to wash their hands often and not have to stress about walking a distance for an activity that takes a very short time. The size of a hand-sink is not very important when it's being purchased as long as it serves its purpose.
➔ A 3-Bowl Scullery: This is a three-bay sink that is used for the washing of kitchen utensils and equipment. Each bay functions separately; one for washing the utensils, one for rinsing them, and the last bay for sanitizing the utensils. This type of commercial sink is quite sizeable and consumes a reasonable amount of space in the kitchen. It is also necessary to consider the size of the utensils being used in the kitchen whenever the size of the sink to be purchased is being considered.
➔ A Prep Sink: It serves the primary purpose of keeping food secure in the kitchen, and it is quite efficient in preventing cross-contamination of food in the kitchen. It is suitable for washing vegetables, rinsing foods, and cleaning out items in the kitchen. When buying a prep sink, it is necessary to consider the size of utensils it may be required to accommodate and the number of food materials that you may have to fit into it daily. It is a very useful addition to any modern commercial kitchen.
Other types of sinks that may be needed in restaurants include:
➔ Mop/Janitorial Sinks: These are for filling and draining mop buckets for cleaning the floor of the restaurant.
➔ Portable Sinks: Often mounted on rolling stands for ease of movement.
➔ Bar Sinks: For emptying beverages and sometimes for holding glassware.
➔ Disposal Sinks: As the name suggests, these sinks are used as a waste disposal unit.
It is necessary to have most if not all of these sinks in a modern commercial kitchen for the smooth running of activities as well as keeping a healthy work environment in the kitchen.
4. Meatball Machine
A piece of wonderful commercial kitchen equipment that should be added to your modern kitchen is a meatball machine. This machine is very versatile and efficient, it can make meatballs out of fish, beef, chicken, shrimp, etc. Advantages of using a meatball machine include:
❖ It is lightweight, occupies little space, and saves energy and time. This way, cooks and chefs don't have to worry about spending a lot of time and energy cutting and shaping meatballs.
❖ It is easy to operate and produces quality, uniformly sized meatballs. A meatball machine features several components that play active roles in the production of the perfect meatballs. These components include:
❖ A meat slicing machine
❖ A meat bowl cutter mixer
❖ A meatball forming machine
❖ A meatball cooking cooling line
❖ A meatball packing machine.
These components function together in a rapid process to form meatballs and this helps the chefs focus on other duties without having to waste time on carrying out the entire process by hand.
5. Commercial Refrigeration Equipment
A modern commercial kitchen can never be complete without commercial refrigeration equipment. This refers to the cold storage equipment used in a commercial kitchen; this includes refrigerators, ice machines, and freezers. The greatest importance of refrigeration equipment is that they keep food safe, and by doing this, they save the owner a lot of money and stress. The type of refrigeration unit used in a commercial kitchen depends on the size of
the kitchen and the range of dishes served in that kitchen. Refrigerators are very important in modern commercial kitchens because they determine the quality of the food,which is the basis of the existence of a kitchen; hence,it is essential to have very good refrigeration equipment.Types of refrigeration equipment to have in your kitchen include:
★ Undercounter Refrigeration Drawers: These are used to hold meat,seafood, and poultry. They are often installed directly in the cooking line.They are great for saving space and are easy to access.
★ Walk-In Coolers/Refrigerators and Freezers: In commercial kitchens that use a large amount of space for cold storage, these types of refrigerators are perfect. They are great for storing boxed items and other perishable items that take up a lot of space.
★ Refrigerated Prep Tables: They are used directly in the cooking line and keep food pans fresh and cold when they are about to be used. They also have drawers beneath them that provide some room for cold storage.
★ Reach-In Coolers/Refrigerators and Freezers: They stand upright and take up room depending on their size. They are perfect for storing alltypes of perishable items in the kitchenand have multiple sections for maximum storage capacity. These refrigeration equipment are perfect for any modern commercial kitchen, and having a combination of them only makes the working environment in the kitchen much better.
I know building a modern commercial kitchen with all the commercial kitchen equipment necessary is not an easy task; however, building one would afford you a much greater chance of success in the catering industry. Employing the use of all these equipment would make work in the kitchen much faster and easier, and this will keep both the workers and the customers who are patronizing the restaurant happy.
Having a modern commercial kitchen also accords prestige to your restaurant and gives it an amazing reputation. The only catch with building a modern commercial kitchen is the finances involved; however, looking beyond that would let you see advantages that far surpass the monetary investment required. Hence, building a modern commercial kitchen is both ideal and futuristic.
Leave a Reply
Your email address will not be published.Required fields are marked. *