The Complete Guide to Commercial Freezing Refrigerators
The Complete Guide to Commercial Freezing Refrigerators & How They are Disrupting the Restaurant Industry
What is a Commercial Freezer Refrigerator?
Commercial freezer refrigerators
are different than the ones that are commonly found in homes. The main difference is that they can hold more food than a regular refrigerator at one time. They also have high-quality insulation to keep food frozen for longer periods of time.

A commercial refrigerator is made so that it can hold large quantities of food, including whole turkeys and other large cuts of meat. It is also insulated to keep your foods frozen for up to 10 hours without power, unlike your average residential refrigerator which needs to be plugged in at all times.

Commercial freezer refrigerators are built to withstand the wear and tear of the kitchen environment, while still providing excellent performance and reliability that you would expect from a lower end unit.
Common Uses for Commercial Freezers
Commercial freezers are used in various settings. One of the most common applications is in a hotel kitchen, where it is typically installed at the back of the kitchen to allow easy access to perishable items such as stock and vegetables.

A commercial freezer can also be found in a restaurant, where it will typically be located near the entrance to allow for quick access when needed.

Freezers can also be installed in food trucks and mobile catering vehicles, where they are helpful for storing products that need to be kept cold at all times - or even frozen. For example, ice cream trucks may have a freezer stored under the floorboard to keep their products frozen until serving time. Finally, freezers can also be found in grocery stores where they are used for storing frozen food items.
How to Choose the Perfect Commercial Freezer For Your Business
There are many factors you should take into consideration when choosing the perfect commercial freezer for your business.

One of the most important factors to consider is the size. You should make sure that the size of the freezer you buy is large enough to hold all of your food product. Another important factor to consider is electricity usage. Make sure that you buy a commercial freezer that uses less electricity because it will end up saving you money in the long-run. You should always try and get a freezer with an adjustable thermostat so that you can control how low or high it goes which will help alleviate some of the risk of food spoilage. Finally, make sure to read reviews before buying so that it gives you more opinion on what other people thought about the product, and whether or not they would recommend buying it.
Different Types of Commercial Refrigerator
To understand the different types of commercial refrigerators, we should know what to look for when we're buying one.

Undercounter refrigerators
The most popular type of equipment in foodservice establishments like restaurants, pubs and delicatessens. It is usually found near the kitchen and has the ability to store large amounts of food at low temperatures.

Walk-in refrigerators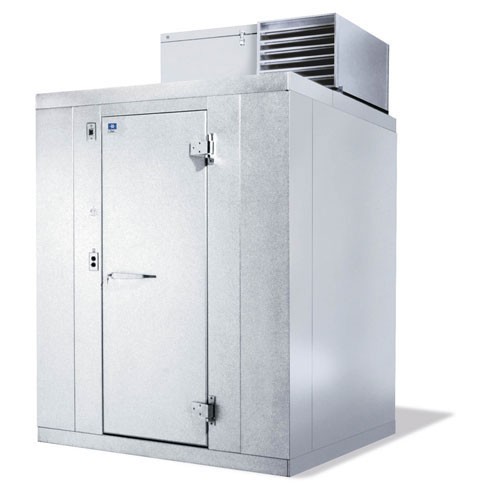 The most popular type of equipment in grocery stores and supermarkets. It is usually found near the back of the store where it can keep cold products at a constant temperature. These units are very large but have limited ability to store products due to their size.
These are one of the most popular types of commercial refrigerator in restaurants because they give you up to 2300 cubic feet of storage space. This type is more efficient than a walk-in or semi-commercial refrigerator because it uses less energy and runs on a smaller footprint. It also provides easy access for staff members to grab food items quickly at any time of day.

Refrigerated prep tables
These units are used in kitchens where there is not enough room for an undercounter or walk-in refrigerator. Refrigerated prep tables are most often found in kitchens and bakeries, where they offer a space for preparing food products that require refrigeration or freezing. The table can be equipped with sinks, drawers for utensils and smallwares, and even dishwasher connections.

This article will review three types of refrigerated prep tables that are appropriate for restaurants.

The three types of refrigerated prep tables that are appropriate for restaurant use are the following:
Shelf-type table: These have a large top surface with a divider down the middle, and the left side has a cabinet, door or drawer.
Open table: These have four or more shelves with a divider between them, and they have a cabinet at the bottom.
Drop-in unit: This type is built into an existing countertop and usually has one shelf.

Bar refrigerators

These are typically smaller than other commercial refrigerators; they're designed to keep beverages cold without taking up too much space on the countertop or behind the bar.

Commercial Refrigerator Safety Tips
Refrigerators and other food storage units in restaurant establishments should be kept clean and sanitary. The appliance should be cleaned regularly with a disinfectant. It should also be emptied and defrosted before storing any new food items into it.

Air filters or filters on the back of the refrigerator that take care of the air inside the refrigerator, must be working well to keep contaminants out. The doors of the refrigerator must close tightly so that cold air doesn't escape while people open and close them. Plumbing leaks near the refrigerators can cause water to drip onto food products which might lead to mold growth and spoilage of food product in contact with contaminated water.

Maintenance for Commercial Freezers
Commercial freezers are made to perform well for a long time. However, they still require regular maintenance to keep them running well and provide safe products.

The most important maintenance requirement is to clean the interior of the freezer regularly. By keeping the inside of the freezer clean and dry, it will extend its life and optimize its performance.

Commercial freezers have a set of cleaning instructions designed specifically for them which is why it is important to follow these instructions to maintain a healthy and safe environment.

Regular care and preventative maintenance for refrigeration:

-Ensure good airflow by defrosting coils at least once a year;
-Never use heat guns or heat lamps;
-Keep food at right temperature;
-Use an approved dehumidifier with ice dam prevention technology if necessary;
-Clean condenser coils every few months with a vacuum cleaner or brush attachment.